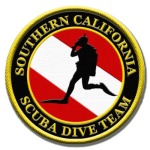 SCDiving Dive Team Membership is a yearly membership, paid either monthly via PayPal Subscription or paid yearly through our online store.
Dive Team Yearly Membership Includes:

1 Air Fill Card or Credit (10 tank fills)
1 Dive Team Sticker
1 Dive Team Patch
$5 Air Fills per Tank after using membership credits
50% off Yearly Visual Tank Inspections
Free Scuba Rentals during active classes
50% Off One-day Scuba Rentals (non-class related)
25% Off Scuba Class Tuition
10-15% Discount on select, Learning Material, Scuba Equipment and More
Priority Notification of Special Deals and Dive Travel Trips
Dive Team Stickers and Patches: As a member, you will be given 1 patch and 1 sticker each year you renew your Dive Team Membership.
25% off classes applies to any regularly priced class.  This does not apply to any specials offering discounted classes.  Class Discount applies to tuition only.
Scuba Equipment discounts do not apply to any products that manufacturers requires minimum pricing protection.
Free Scuba Rentals during classes are only for active classes.  If there is a break of more than two weeks without instruction, the rental gear must be returned or the rental daily will be applied.
Scuba Rentals (non-class) daily rated are calculated not including the day your pick up the gear and the day you drop off the gear.  However, if you pick up and drop off on the same day, 1 day rate will apply.  If you pick up on Friday and return the gear on Sunday, you will be charge for 1 day.
Dive Team Memberships have no cash value and are not refundable beyond the 5th day of purchase.
*Note: Air Fill Credits have some restrictions.  See website for more information.
To unsubscribe from PayPal Monthly Dive Team Subscription, use the following button.