La Janelle
La Janelle was a 466 foot, 1,000 passenger luxury liner launched from Quincy, Massachusetts on September 24, 1930. On April 13th, 1970 it was moored outside of the Port Hueneme Harbor, where a storm pushed the ship into shore. Many attempts were made to salvage the ship, however, each failed. The Navy Seabees cut the ship and extended the jetty by placing large boulders around the hull.

Depth: 85-90 feet
Visibility: 5-20 feet
Skill: Intermediate to advanced



Directions:
Basically, take Victoria Ave all the way south, take the fork to the left which turns into Roosevelt which then turns into Channel Island View. At the end, you will see the gate to the Navy base, but just before you get there, follow the road to the right (Sawtelle) and take it to the end / parking lot.
Location Details
Min Cert:
Parking Fees:
Restrooms: no
Showers: yes
Photo Gallery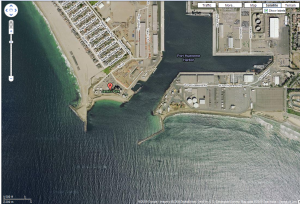 View on Map